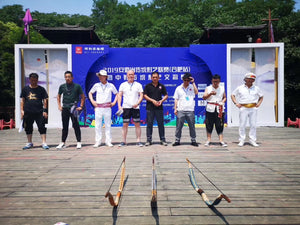 2019 Anhui Province Chinese Traditional Archery Competition (Hefei Station )
Sorry for the delay of the update , the second station of Anhui Province Chinese Traditional Archery Competition was hold in the City of Hefei (the capital city of Anhui Province) in Jun.1st-Jun.2nd , there are 86 archers joined this competition (contain 11 archers from South Korea , welcome more other foreign archers to join our traditional archers competition in next year ) .
The South Korea Team
It was a successful competition not only because South Korea team joining , but also have some interesting competition section , such like 145 meters South Korea target , fast shooting competition , moving target shooting and high draw weight bow competition . 
Mr. Zhang Li And South Korea Friends 
The competition is hold in the Three Kingdom Park in Hefei , after Mr. Zhang Li said competition begin , the first program is the foot archery performance from Ali Archery Club with Ming dynasty "feiyufu" , other name of this performance is Dunhuang archery performance , because all archers use Dunhuang laminated bow .
Ming Dynasty Jinyiwei Foot Archery Performance 
Live of the competition 
Cards for archers
The Prize
The ADS
Alibow and Aliarchery's flag
Arrows Rain
Shoot the Big Korea Target out from 158 yards (can you hit the target ?)
Moving Targets
Wuzhuangyuan with far shooting and war bow drawing
Competition 
The Awards Ceremony
Bow Show Time 
The H1 Fiberglass Bow
Alibow Dunhuang Laminated Bow
Alibow Kaiyuan Laminated Bow
Alibow Niya laminated Bow
Alibow Emperor 3 Laminated Bow
Alibow Laminated Manchu Bow
Korean Bow
Alibow Long Syhas Laminated Han Bow
Alibow Zhuque Laminated Bow
The Video : 
https://www.youtube.com/watch?v=6EKHh7i-zEE&t=37s
The End
Thank all of our sponsors and partners !
---
1 comment